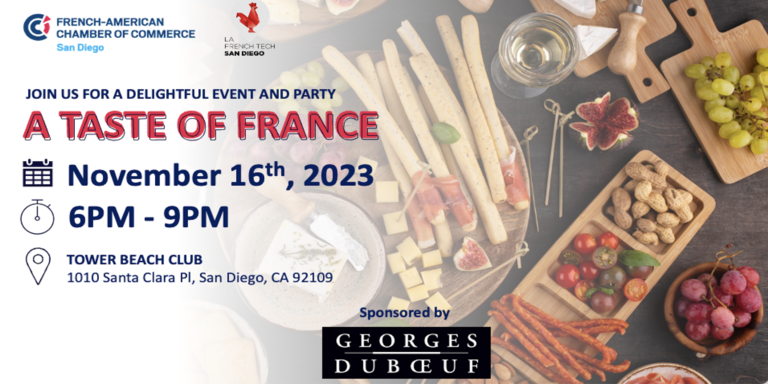 You don't want to miss this !

Our A Taste of France Event is back!

 We welcome you on Thursday, November 16th, 2023, from 6:00 P.M to 9:00 P.M PT at the Tower Beach Club, near Santa Clara Point to celebrate our French and San Diego community around a platters of charcuterie, Cheese and delicious Beaujolais Nouveau Wines in a great & beautiful venue!

Every year in France, this event takes place on the third Thursday of November, when vinification is completed and the wine can be sold. It s also a great reason to meet friends in a great and welcoming atmosphere!


Join us, Business France & representatives of the French Embassy for this event sponsored by Georges Dubœuf, known for its exceptional wines since 1964 in Romanèche-Thorins, with the Moulin-à-Vent appellation.
Grab your tickets at: https://tinyurl.com/yp2zaxyp